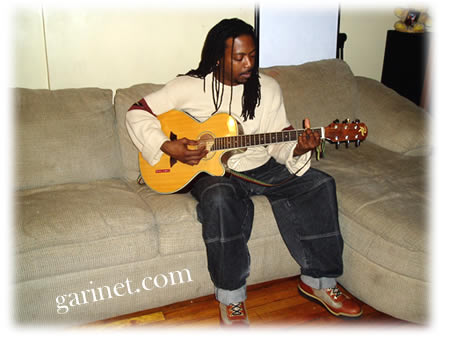 While we were in the studio one day, DJ Spice Killa came up with an idea, to translate some golden oldies into Garifuna. I told Spice "you know you have to get permission from the original composers of those songs write." He then replied in a don't give a thing attitude, "James, when have you heard a Garifuna Artist got sued?" He continued, "It's not because we'll be selling millions of copies of this album, we'll only be catering to the Garifuna people, and its not because they will buy it anyway, they usually make a recording from a CD. The only people who buy Garifuna music are those music lovers who appreciate and support the Garifuna Artists." I then told Spice to give me a day or two to think about it. When I entered the studio the next day, Spice told me to get on the mike. The version of "A one in a million" was playing.
Forty five minutes later, Wamatina Tun was recorded.
Wamatina Tun the album is just an attempt to venture into another platform of Garifuna music that needs to be explored. In many occasions, partygoers would fill the dance floor dancing to slow jams. Therefore, singing in Garifuna was just another way of bringing romantic music closer to those who do not understand English. All the songs in Wamatina Tun are derivatives, except track 7 and 8 which are originally composed by James Lovell.
Finally the album has arrive where you and your significant other can relax to the soothing, calming and enchanting voice of James Lovell. This is the moment to get to know each other in a very seductive environment. There's no need to rush, take your time, after all you can always rewind Wamatina Tun, until the next romantic album comes.
View all albums and downloadable songs by James Lovell
View Music Video by James Lovell