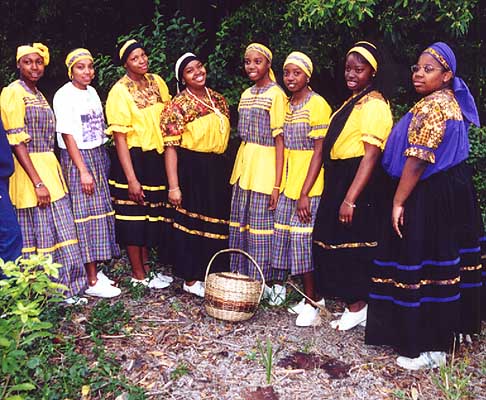 Wagiameme Performing Troupe is a group of youth ages 12-21.  'Wagiameme' a Garifuna word that means, 'still us' reflects the philosophy of the group. We believe that we can still maintain our heritage despite being away from our homelands. Members represent the diverse immigrant population of Los Angeles.
The group was formed in response to the need for an organized and stable Garifuna performing/youth group to serve the Los Angeles community. We wish to share our cultural heritage and provide safe, positive and enriching activities for our youths.
Who are Garifuna People?
During the 18th century, Africans intermingled with Island Carib and Arawak Indians on the Island of St Vincent. This union formed the Garifuna people. In 1797 the British shipped thousands of Garifuna people to Roatan off the Coast of Honduras in Central America. Thus began the exile of the Garifuna people in Central America. They live primarily in Honduras, Guatemala and Belize. Today Garifuna communities can be found in many cities in the United States i.e. New York, Chicago and Los Angeles.
Wagiameme Performances
KTLA Channel 5, 'Eyes on LA', Los Angeles

Univision, Channel 34, Primera Edicion, Los Angeles

Pasadena Rose Bowl: L.A. Galaxy Central American Independence Celebration Soccer Game - Half-time performance

UC Santa Barbara, Multicultural Week

Pasadena City College, Culture Night

El Camino College Cultural Fair, Torrance

California State University, Dominguez Hills - Unity Fest, Carson, California

Manual Arts High School, Los Angeles

Groundbreaking Ceremony for the Cathedral of the Angels, Los Angeles

Annual Catholic Youth Conference, Universal Studios, Universal City

African Market Place, Los Angeles

Caribbean Sea Breeze Festival, Long Beach

Belize Trade Show, Pasadena

Bob Marley Reggae Festival, Long Beach

Sports Arena Caribbean Vision Awards, Santa Monica

Garifuna Music Awards, New York

Garifuna Settlement Day Celebrations, Los Angeles

Guatemalan Expo, Los Angeles Convention Center

Jamaican Awareness Luncheon, Los Angeles

XIV Central American Independence Parade, Los Angeles

Latin American Museum Reception, Long Beach, California

Garifuna Street Festival, Los Angeles
Mission:
Share our cultural heritage with a diverse population Provide safe and nurturing environment for youth.

Allow youth an opportunity to explore talents in music, song, dance, and to express themselves in the spoken word and other art forms.

Give youth from various backgrounds the opportunity to interact with each other therefore fostering understanding and tolerance.
What can be seen in our shows?
Our show consists of movements to the beat of authentic Garifuna drums accompanied by singing (call/response) reflecting our African and Amerindian heritage. Maracas and conch shells are included as necessary. Dances are choreographed to contemporary and traditional Garifuna music and other Caribbean and Central American sounds. . We include a brief overview of Garifuna history and a synopsis of the stories told in the songs.
The Directors
Anita Martinez is a Garifuna activist who has worked in the community for over 20 years. She has served as President of the Preservation of the Garifuna Culture Society, Director of the Walagante Garifuna Youth Group, co-founder of Project Help and a Project Success mentor at El Camino College.
Shantel Martinez , realized her vision of an ongoing group that would provide cultural enrichment and mentoring to youths when she co-founded Wagiameme Performing Troupe. She has been involved in the Los Angeles Garifuna Community for many years. She currently attends University of California, Santa Barbara.
Members
Angela Apolonio
Natasha Banner
Preston Castillo
Taniesha Castillo
Adrin Davis

Chanetta Davis
Wyniesha Davis
Afra Lambey
Trisha Lambey
Harry Locario

Ashley Martin
Celina Martinez
Shantel Martinez
Marcela Palacio
Imani Palacio
Contact Info:
          Phone:  323.299.6005
          E-mail:   wagiameme@aol.com
Click here to purchase ticket for the 2004 BelizeanArtist.com Concert