RETURN POLICY

To place your order by phone call: 1-800-385-2910


---
Browse by Author/Artist:
0
A
B
C
D
E
F
G
H
I
J
K
L
M
N
O
P
R
S
T
U
V
W
X
Z
---
You are viewing items by:
Isiah Nicholas
Select a Page to view more items for Isiah Nicholas: << Previous 1 2
About Isiah Nicholas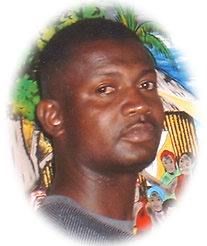 Art + Culture + Ideas = Isiah Nicholas. Isiah is the son of Benjamin Nicholas. Benjamin, is one of Belize's leading artist. He is the chronicler of the history and culture of the Garifuna Indians.
The Garinagu (plural for Garifuna) are the descendants of male African slaves and Carib Indians women, who were defeated by the British in March of 1797. They were then deported to the coast of Nicaragua, Honduras, Guatemala and Belize in Central America.
Isiah, was born, on the 30th day of July, in the beautiful country of Belize. He has been painting and drawing from since primary school days.
At the age of eight, Isiah did his first painting on canvas in oil. This painting was sold to an Art collector from Minnesota.
Both, Isiah, and his dad paintings, depict the history and the daily life and culture of the Garifuna people, from fishing and farming to healing ceremonies and mourning rites. He Nicholas painting reputation has steadily grown in Belize and abroad, and has received many awards.
Today, both Isiah and his dad paintings are all over the world, in homes, banks, offices, museums, etc.
High ranking officials, who visit Belize, such as the Queen of England, the Pope and Presidents are given a Nicholas painting by either the Prime Minister of Belize of the Ministers.



Select a Page to view more items for Isiah Nicholas: << Previous 1 2




Testimonials
I received my merchandise as quick as they promised and it was sealed carefully. Yes, if I need to make another order, I will with no hesitation. Garinet has good quality services for customers.

Norma Hill



See also...
25th Edition Fragrance for Men **NEW** - 209 - Forever Living Products
Our Price: $34.95

Thug Immortal: The Tupac Shakur Story - Tupac Shakur
Our Price: $18.97