RETURN POLICY

To place your order by phone call: 1-800-385-2910


---
Browse by Author/Artist:
0
A
B
C
D
E
F
G
H
I
J
K
L
M
N
O
P
R
S
T
U
V
W
X
Z
---
You are here:
Art > Original Paintings > Market Day

Isiah Nicholas

Market Day



Every day should be market day for all the house wives. But because there are other things to be done in the home, market day is put off for Saturday.
Early Saturday morning, farmers, producers, fishermen, from all over, come to the town to sell their produce.
House wives come out and buy their vegetables, fruits, ground food, fish and meat. The big cooking day is usually Sunday.

- This painting is done with acrylic on canvas
- Size: 48 x 30
Original Painting
List Price: $1000
Our Price: $500
You save: $500.00 (50.0%)

Ships within 5 business days


About Isiah Nicholas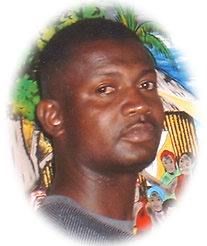 Art + Culture + Ideas = Isiah Nicholas. Isiah is the son of Benjamin Nicholas. Benjamin, is one of Belize's leading artist. He is the chronicler of the history and culture of the Garifuna Indians.
The Garinagu (plural for Garifuna) are the descendants of male African slaves and Carib Indians women, who were defeated by the British in March of 1797. They were then deported to the coast of Nicaragua, Honduras, Guatemala and Belize in Central America.
Isiah, was born, on the 30th day of July, in the beautiful country of Belize. He has been painting and drawing from since primary school days.
At the age of eight, Isiah did his first painting on canvas in oil. This painting was sold to an Art collector from Minnesota.
Both, Isiah, and his dad paintings, depict the history and the daily life and culture of the Garifuna people, from fishing and farming to healing ceremonies and mourning rites. He Nicholas painting reputation has steadily grown in Belize and abroad, and has received many awards.
Today, both Isiah and his dad paintings are all over the world, in homes, banks, offices, museums, etc.
High ranking officials, who visit Belize, such as the Queen of England, the Pope and Presidents are given a Nicholas painting by either the Prime Minister of Belize of the Ministers.


Testimonials
I received prompt and effecient service on my order. I will order from Garinet.com with confidence in the future.

T M Scruggs Jr:



New releases in Original Paintings...
Most popular by vote in Original Paintings...
See also in Original Paintings...
The Arrival - Isiah Nicholas
Our Price: $800

Beating Plantain - Isiah Nicholas
Our Price: $79.98