RETURN POLICY

To place your order by phone call: 1-800-385-2910


---
Browse by Author/Artist:
0
A
B
C
D
E
F
G
H
I
J
K
L
M
N
O
P
R
S
T
U
V
W
X
Z
---
You are here:
Art > Original Paintings > Beluria - Ninth Night

Isiah Nicholas

Beluria - Ninth Night



From the day a person dies, family members along with friends begin to mourn fro wine days.
On the ninth day, a big church ceremony is held, which is followed by a big feast, food and drinks is being served to mourners, while mourners dance and party away, to the beating of the drums.
Some outsiders look forward for this day, to make a few dollars on the side by gambling and selling food and drinks.

- This painting is done with acrylic on canvas
- Size: 48 x 60
Original Painting
List Price: $5000
Our Price: $3000
You save: $2000.00 (40.0%)

Ships within 5 business days


About Isiah Nicholas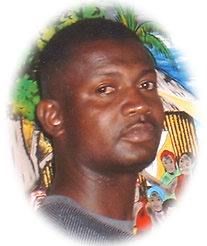 Art + Culture + Ideas = Isiah Nicholas. Isiah is the son of Benjamin Nicholas. Benjamin, is one of Belize's leading artist. He is the chronicler of the history and culture of the Garifuna Indians.
The Garinagu (plural for Garifuna) are the descendants of male African slaves and Carib Indians women, who were defeated by the British in March of 1797. They were then deported to the coast of Nicaragua, Honduras, Guatemala and Belize in Central America.
Isiah, was born, on the 30th day of July, in the beautiful country of Belize. He has been painting and drawing from since primary school days.
At the age of eight, Isiah did his first painting on canvas in oil. This painting was sold to an Art collector from Minnesota.
Both, Isiah, and his dad paintings, depict the history and the daily life and culture of the Garifuna people, from fishing and farming to healing ceremonies and mourning rites. He Nicholas painting reputation has steadily grown in Belize and abroad, and has received many awards.
Today, both Isiah and his dad paintings are all over the world, in homes, banks, offices, museums, etc.
High ranking officials, who visit Belize, such as the Queen of England, the Pope and Presidents are given a Nicholas painting by either the Prime Minister of Belize of the Ministers.


REVIEWS
Avarage Ratings For This Product:





---
Write your own review about this product!

---
Rating:






Headline: I am so happy to own an Isiah Nicholas

Review: Isiah Nicholas and I are classmates from Dangriga. I think I am the worst artis you could find, so Isiah would do my drawing for me. The best artis from a young age



Write your own review about this product!
Testimonials
I received my merchandise as quick as they promised and it was sealed carefully. Yes, if I need to make another order, I will with no hesitation. Garinet has good quality services for customers.

Norma Hill



New releases in Original Paintings...
Most popular by vote in Original Paintings...
See also in Original Paintings...
The Arrival - Isiah Nicholas
Our Price: $800

Hudut Time - Isiah Nicholas
Our Price: $150