RETURN POLICY

Para ordernar por medio de telefono llamenos al: 1-800-385-2910


---
Hojee por Autor/Artista:
0
A
B
C
D
E
F
G
H
I
J
K
L
M
N
O
P
R
S
T
U
V
W
X
Z
---
Usted esta aqui:
Arte > Pinturas Originales > Cassava Bread Baking

Isiah Nicholas

Cassava Bread Baking



Cassava bread baking is a lot of hard work, but the women make it easier by teaming up.
It starts with the going to the farm to harvest the Cassava (which is a ground food) The Cassava is then brought home , where it is being peeled, washed, grated, strained, made to fine powder, which then is ready for baking.
During the process, the women would be singing away to the favorite Garifuna songs, without knowing the work would be all over and the Cassava bread is ready to be eaten with soup, or just like that, with a little honey or milk on the top.
Cassava bread can last for days and it will still be good to eat.

- This painting is done with acrylic on canvas
- Size: 48 x 36
Pintura Original
Precio Regular: $1400
Su Precio $800
Ahorra: $600.00 (42.9%)

Enviado dentro de 5 dias de negocio


Acerca de Isiah Nicholas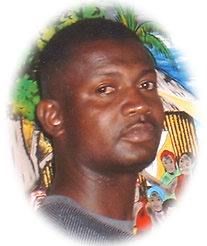 Art + Culture + Ideas = Isiah Nicholas. Isiah is the son of Benjamin Nicholas. Benjamin, is one of Belize's leading artist. He is the chronicler of the history and culture of the Garifuna Indians.
The Garinagu (plural for Garifuna) are the descendants of male African slaves and Carib Indians women, who were defeated by the British in March of 1797. They were then deported to the coast of Nicaragua, Honduras, Guatemala and Belize in Central America.
Isiah, was born, on the 30th day of July, in the beautiful country of Belize. He has been painting and drawing from since primary school days.
At the age of eight, Isiah did his first painting on canvas in oil. This painting was sold to an Art collector from Minnesota.
Both, Isiah, and his dad paintings, depict the history and the daily life and culture of the Garifuna people, from fishing and farming to healing ceremonies and mourning rites. He Nicholas painting reputation has steadily grown in Belize and abroad, and has received many awards.
Today, both Isiah and his dad paintings are all over the world, in homes, banks, offices, museums, etc.
High ranking officials, who visit Belize, such as the Queen of England, the Pope and Presidents are given a Nicholas painting by either the Prime Minister of Belize of the Ministers.


REVISIONES

Sea el primero en escribir una revision en este producto!
Testimonios
I enyoyed the product that I bought thru garinet.com. I received the product on time as it was promised, that is what I like.

Enrique Velasquez



Nuevos Productos en Pinturas Originales...
Mas Populares por voto en Pinturas Originales...
Tambien vea en Pinturas Originales...
Punta II - Isiah Nicholas
Su Precio $500

Beating Plantain - Isiah Nicholas
Su Precio $79.98