RETURN POLICY

To place your order by phone call: 1-800-385-2910


---
Browse by Author/Artist:
0
A
B
C
D
E
F
G
H
I
J
K
L
M
N
O
P
R
S
T
U
V
W
X
Z
---
You are here:
Books > Religious > Knowing God as your father 4CD

Rev

Knowing God as your father 4CD



Knowing God as Your Father (KEH 4 CD series)
Develop your personal relationship with your heavenly Father and experience more peace and joy than ever before through the application of the teachings in this series.

CD
Our Price: $28.97


Ships in within 2 weeks


Testimonials
I purchased 3 CD's from Garinet, Malia Polia by Jimmy Suazo, Agrupacion by Solis, and the CD dedicated to my late uncle, Isabel Flores sung by Pen Cayetano and Mohobub Flores. I am still enjoying those CD's and hope to purchase more from Garinet. I like that fact that I did not have to wait 2-3 weeks for the products, I received them within 4 days of purchase.

Fidelis Castillo



New releases in Religious...
See also in Religious...
Garifuna Bible (Sandu Burutu) - Sociedades Biblicas Unidas
Our Price: $49.97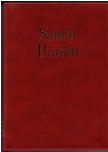 God's Greater Glory by Rev. Kenneth Hagin Jr. - Rev. Kenneth Hagin Jr.
Our Price: $19.95