RETURN POLICY

Para ordernar por medio de telefono llamenos al: 1-800-385-2910


---
Hojee por Autor/Artista:
0
A
B
C
D
E
F
G
H
I
J
K
L
M
N
O
P
R
S
T
U
V
W
X
Z
---
Usted esta aqui:
Celurares & Accesorios > Motorola > Motorola Razr V3 Limited Edition (Unlocked) Model: v3razr

Motorola

Motorola Razr V3 Limited Edition (Unlocked) Model: v3razr



Description:
Input Method: Keypad
Included Devices: Battery, Carrying Case, Charger, Hands-Free Headset, USB Cable
Advanced Features: Calculator, Calendar, Clock, Currency Converter, PC Connectivity
Battery Technology: Lithium Ion
Call Placement Features: Automatic Redial, Last Number Recall, Voice Dialing
Color Depth: 65,536 Colors (16-bit)
Convenience Features: Speakerphone, Time-Date Stamp
Data Capabilities: Bluetooth, Enhanced Message Service (EMS), GPRS, Instant Messenger, Multimedia Messaging Service (MMS), Short Message Service (Text Paging), Voice Mail, WAP
Digital Cellular Technology: GSM 1800Mhz, GSM 900Mhz
Digital PCS Technology: GSM 1900MHz, GSM 850MHz
Management Features: Silent Ring (Vibrate)
Memory Locations: 1000
Ringtones: Built In, Downloadable
Smart Features: Email, Integrated Camera, Java, PC Connectivity, Phone Book, Video Capture, Video Playback, Web Browser
Standby Time (Battery): 290 hour(s)
Talk Time (Battery): 430 minute(s)
Installed Memory: 5.5 MB
Dimensions
Height: 98 in
Width: 53 in
Depth: 13.9 in

Weight: 2 lb

Celular
Precio Regular: $649.99
Su Precio $569.99
Ahorra: $80.00 (12.3%)

Enviado dentro de 2 semanas


REVISIONES

Sea el primero en escribir una revision en este producto!
Testimonios
I enyoyed the product that I bought thru garinet.com. I received the product on time as it was promised, that is what I like.

Enrique Velasquez



Nuevos Productos en Motorola...
Tambien vea en Motorola...
Motorola C650 Phone Unlocked Model: C650 - Motorola
Su Precio $209.99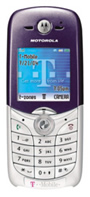 Motorola V188 Dark Purple (Unlocked) Model: v188 - Motorola
Su Precio $199.99