RETURN POLICY

To place your order by phone call: 1-800-385-2910


---
Browse by Author/Artist:
0
A
B
C
D
E
F
G
H
I
J
K
L
M
N
O
P
R
S
T
U
V
W
X
Z
---
You are here:
Souvenirs > Flags > Garifuna Flag (3x6 feet)

Ruben Reyes

Garifuna Flag (3x6 feet)



This symbolic Garifuna flag comes with the newly designed emblem in a size of approximately 3x6 feet with cloth material perfect for organizations or individuals representing the Garifuna culture to a large number of people.
Flag
Our Price: $75


Out of Stock


REVIEWS
Avarage Ratings For This Product:





---
Write your own review about this product!

---
Rating:






Headline: Oh my God.
By: Becky Email: emmanuel0894@rcn.com Note: a Garifuna living in Chicago.
Review: This is so beautiful, really,
i gasp when i first saw it . this is really the prettiest flag i have ever seen.

Write your own review about this product!
Testimonials
I was very pleased with the sevice I received from Garinet when I purchased my Pen Cayetano & Mohobub Flores CD. The Paypal system was easy to use, and I received the CD much quicker than I thought I would! I am definately planning on ordering other items from your website.

Mary-Anne Gaffney



Most popular by vote in Flags...
See also in Flags...
Garifuna Flag (9x12 inches) - Ruben Reyes
Our Price: $14.97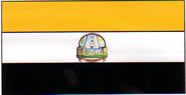 Garifuna Flag (3x6 feet) - Ruben Reyes
Our Price: $75