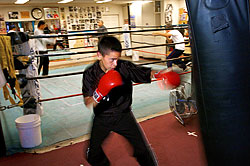 sacbee.com

Booming drums and smoldering tree sap incense coat the air of the indoor basketball court, as Aztec dancers bounce in patterns, bare feet to the floor, seed pods rustling from anklets.
In the next room, muggy with sweat, one boxer stays late, bouncing in the ring.

The activities continue as always, but the Washington Neighborhood Center is on the ropes again.

A community center since the 1950s, it has struggled through unstable finances and management for years, several times barely hanging on.

Now again it may be in danger of closing - all the result of a fight with another nonprofit organization over a disputed $45,000.

More...