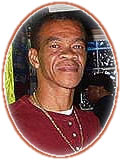 BRONX NY, 7/20/2003

The scare of having one of the Living Garifuna Tripple Towers ( Pen Cayetano, Greg Palacio and Virgilio Lopez) was released from Lincoln Hospital.

"I am grateful for the response the people send about my staying and condition in the hospital",said Virgilio Lopez from his home in the heart of the South Bronx at the Mott Havensection overlooking the beauty of St.Mary's Park.

There was a private gathering for family and friends today where Rolando Marin was present among others were present.

As Lidani reported late last week,Virgilio Lopez was victim of a roberry attempt on 3rd Avenue. On his admission to Lincoln Hospital, he was unconscious and could not see due to the beating he recieved from the thugs.

"I am glad I am home", he said wondering his living room as he was playing Celia Cruz' songs. "Being back home is a relief."

One of the suspects is being held by the cops. Due to the insufficient facts, Lidani cannot tell you the details but will follow as information becomes available.

"They will call me",says Vilo referring to the detectives who are handling the case as he sat around a plate of fresh Judutu made by his beloved wife.

Virgilio Lopez is the artist who designed the logo for the 200th Bicentennial in Honduras in 1997, he also contributed to websites such as the former Garifuna World, Garinet.com and the upcoming Lidani.net. Most of his work can be seen on Jimmy Suazo's CD covers.