Part 3 of 3
By Ifasina Efunyemi
Tuesday, January 17th, 2006
Andy Palacio, 45 years old
Interview with Ifasina Efunyemi, Tuesday, January 17th, 2006
National Institute of Culture and History, Belmopan City, Belize C.A.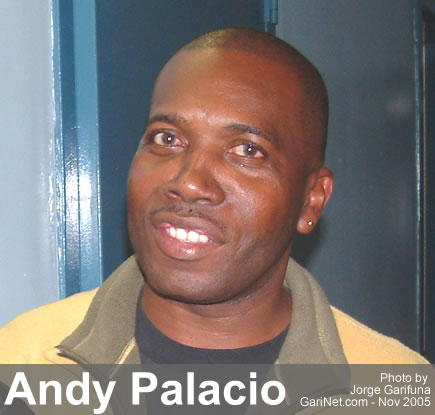 Ifasina: Why do you keep going (performing)? or What keeps you in the music business?
Andy: First of all, I like it. Music is a very rewarding activity. The stage and studio are settings where I am happiest. Also, if somewhere along the line we can bring the music to a higher level, I'd be very satisfied for myself and others who want to pursue the career along the same lines.
Ifasina: Do you consider yourself a role model? Why or why not?
Andy: Yeah, I've come to consider myself a role model because I've been told by some persons that they consider me a role model. At times people are better able to see you from the outside than you can see yourself from within. It feels rewarding for one, then there's the challenge to maintain whatever it is that has elevated me to role model status. Fortunately, this is not too difficult for me.
Ifasina: Do you think that through your efforts you are giving out positive messages?
Andy: Yes, I've made a conscious effort to be as positive as possible all the time – in actions as well as in my words.
Ifasina: What do your parents think about your career?
Andy: My parents have been very proud. There was a time when they were naturally unsure of where this life would take me but they gave me a chance and the unconditional love required to get me where I am.
Ifasina: How is your talent helping your community?
Andy: My talent is drawing attention to the community itself and where possible, I provide guidance to those who have ambition to do something in the creative arts.
Ifasina: What do you recommend to those that want to be like you?
Andy: One is to figure what they're good at, find their place in the puzzle and make partnerships, alliances with people who have strengths they don't. Above all, be a good listener to everything. Spend half your life listening, it's difficult but do it.
Ifasina: What are or have been the major difficulties you've encountered in the music field?
Andy: One major difficulty has been breaking into the Caribbean market because the Caribbean is made up of mostly small economies. Next thing, doing photo sessions and video shoots are my least favorite activities. I don't enjoy those.
Ifasina: Do you get enough radio play/exposure?
Andy: Yes, everywhere. I don't complain about that, plus I do several public service messages and jingles which sometimes causes the airwaves to be saturated with my voice.
Ifasina: What are the things that need to be improved for artists in your given community?
Andy: I'd say access to financing. Overall, they need knowledge of the way the industry works so they can have reasonable expectations and won't get taken advantage of.
Ifasina: Do you have a specific musical goal – record sales? Grammy awards etc.
Andy: Yes, to perform somewhere in Africa preferably West Africa. I would like to do a duet with Juan Luis Guerra or David Rudeer of Trinidad, a leading Caribbean artist. I'd also like to work with a French Caribbean producer.
Ifasina: What demographic do you try to reach with your music?
Andy: I try to reach the Caribbean, home and in the diaspora. There's a more intimate connection with Caribbean people.
Ifasina: And finally, is your music just for today or can you see it being a lasting classic?
Andy: I've tried to make my music timeless and it seems I've been successful because people still refer to songs I've written many years ago. Those songs still get as much attention today as they did ten years ago. I plan to maintain this in my future projects.