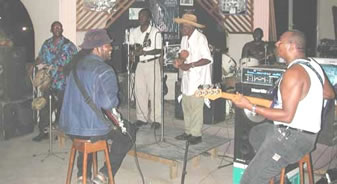 PRESENT: St. Mary's Park-Bronx NY:

There were three stories I had to do a bit research on. And by the end
of the day, I ended up doing something not familiar to the original
script.

It has never been revealed that 23 Years ago there was the ultimate
Garifuna musical revolution when the Original Turtle Shell Band took it
to the stadium and the parks and the clubs. Prior to the change, Punta
was simply traditional and as Pen wrote in the "Proclamation of Punta
Rock", Punta was mainly played among the older crowd at belurias.

But...Ten years ago. Who would have thought?

Who would have believed that just like the original turtle shell band,
the reincarnation of Punta will come back to creep back into our daily
conversations?

Who would have thought about that, Damn it?!

As I sat and listened, I relived what many of you lived by the church
on 163rd. With Starlight Sound, Challenger and Blackshark.

"Back then, if you were 17 and had no ID, we would have taken care of
you, man", he said. His dreads covering his left eye. "You only had to
pay $5 to get in and if you start trouble, there will be no refund."

By now, there was an entourage of young girls from Labuga walking with
their skirts and slim tops. I ordered a "coquito" and turned the
recorder back on.

"Yo Castro", he said, "Listen to this carefully. Garifuna Kids were the
ones upgraded the level of Punta Rock in the 1990's"

I felt a chill. I mean a deep chill like I just finished having some
good meal. Or as if I just got the news that Gawachas will be on sale on
the local fish market. That's how deep it was.

I looked at this individual, hidden behind the 'locks' and wondered.
But how could I question him? I mean he was the one who ran the joint,
with Ron and the other guys.

Ten Years ago in Brooklyn Garinagu fell deeply in love with their
culture and their music. Ten years ago Garinagu fell in love with
Eddie, Christian, Pisin, Wayner, Big June, Coco, and Linky and Nieves.

They were the Garifuna version of the Blackstreet Boys and N'Sync. They
were the Jacksons and Temptations. Hell, they were Garinagu.

They roamed the country, even appearing on "El Show del Medio Dia" live
and direct from Mexico City. The neighbor upstairs banged on my door
that Saturday.

"They are on TV" she said as if someone died. "Turn on Telemundo."

I turned and Coco was doing his thing. Eddie grabbed that guitar and
let all the haters know that Garifuna Kids were here to stay.

Linky's boy wonder face came to the camera, he did one of those rock
moves that made me shake a bit.

It was deep and affectionate. Like love.

By the following week, they were on St. Marys.

Rocking.

Loving.

Puntaying.

Garifunaying. Feel me?

Guys were in the trees and bushes taking advantage of what they were
given. Amen to that.

Fathers were so jealous that daughters were kept like Al Qaeda prisoners
in Cuba. Under close watch because Coco was a quick one.

Me, I just watched just like I am listening to the man hidden behind
the locks. And as he keeps talking about that time of our history, my
recorder rolls and records every sneeze, cough and noise around us. And
I wonder, just like you and I would now about what would have happened
if those guys would not have fallen in love to make you fall in love
with them?

Who would have thought, right?

Happy 10 years to every member of Garifuna Kids.

Lafaragadu Jerry Castro

NOTE: The stories I was working on was about the Garifuna Twin
Towers...Carlos Colera and Rababa...Which you will read about how they
changed the Game. Can't wait for that!

Enjoy.