The Keynote Speaker for the Fest was Dr. Marciael Holmes, Pastor of the Killeen Worship Christian Center, whose topic was  "Diversity."
With the colorful National flags of every Caribbean country, including Belize's, as a backdrop behind him, Dr. Holmes encouraged the participants to constantly meet the challenges to diversity, without which no community anywhere can grow or survive.  He said that the reasons why we all had gathered there that afternoon is because we each recognized the importance of us accepting our differences and celebrating of our unity, which is what Diversity is all about.
Dr. Holmes' remarks were followed by several entertaining activities, including performances, raffles, contests and a fashion show. The Killeen Worship Christian Center's Gospel Choir and Step Team, the Zion Temple 5 Miracle Dance Group, the Saturday Night Skaters and the Umoja Drummers and Dancers had the audience's attention riveted to their acts.
Music was provided by local Virgin Islandan; DJ Smith & Co., who, with video cameras rolling all around the hall, and seen on screens, brought his regular Saturday Night Jams at the Fort Hood Patton's Inn out live and direct to the diverse assemblage, so everyone, adults and children alike, can savor and enjoy the sounds of the Caribbean.  If his beats didn't drag you to the dance floor, believe me; they certainly had you tapping your feet and bopping your head on the sidelines.
There were booths galore situated all along the entire wall of the center, some were businesses, some, vendors.  Then there was Belize's.
With their National Flag prominently displayed, the Belizean Association in Killeen/Texas was participating in this fest for one thing, and one thing only; which is to represent, to show off, and promote the Jewel of the Caribbean.
Upon given the opportunity to say a few words, the Belize contingent conveyed greetings to all the nations represented, from the "Heart of the Caribbean Basin."
The contingent went on to explain why Belize, even though located in Central America, is considered more a Caribbean Nation, than it is Central American.
Renowned for its peaceful demeanor, laid-back atmosphere, and its tolerance to ethnic differences, Belize is the only English speaking country in Central America.
Like most of the Caribbean nations, it is a small, tight knit country of only 8,867 square miles in area, and a population of a mere 240,204 (according to the 2000 census estimates) inhabitants.
The history of Belize is intertwined with that of the West Indian islands. Its people experienced and overcame the same growing pains of colonialism.
The Belizean Association in Killeen, Texas is a semi-official organization, representing all the ethnic groups of Belize.  Originally formed in 1998 by a group of active duty and retired soldiers, and their families, in order to have the first ever 19th of November/Garifuna Settlement Day celebration in this area, its main function today is to cater to the social needs of Belizeans and Garifuna from anywhere, who comes to serve in   Fort Hood. Membership is open to all Belizeans and all Garifuna residents of Texas.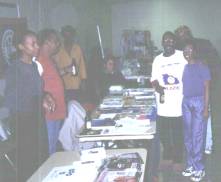 Pictured at the Belize booth, from left to right are: Glenda's Garifuna Guatemalan friend in Ft. Sill, and Belizeans: Leslie Gomez, Yvette Gentle Usher, Verna Young Castillo, Joseph Flores, and SGT Irma "Glenda" Castillo-Robinson, presently stationed in Ft. Sill, OK.
The Belize booth had a host of items on display, to read, and to give away.  There were music CDs and tapes of many of our favorite artists and groups, including; Bredda David, Mohobub, Titiman, Lord Rhaburn, Mr. Peters' Boom & Chime Band, Babylon Warriors, The Revelations, Punta Rebels, Ugurau, and of course, Andy P, Don Justo and Bill Cayetano. There were history and geography books, and newspapers that are available on the Internet.
Hundreds, if not all those who came to the fest, stopped at the Belize booth, to view the display, talk, ask questions, and to get the colorful, informative posters,

magazines, brochures, and guides on hand, courtesy of the BTB.

Jamaican, Sherron "Ayana" Ashanti, co-owner of the Caribbean Tea House & Gift Shop,, and the brainchild of this Fest, did an absolutely outstanding job of putting the event together.

Ayana is one of those rare people, a Diamond in the Ruff.  Upon arrival here some three years ago, she saw the need for programs in this area that would bring the people from the Caribbean together.

Ayana didn't go around complaining, like most of us would.  Instead, she took it upon herself to do something about the situation. She is a perfect example of someone standing up and being counted in making a difference.  In being a part of solutions instead of aggravators of problems.

If the results this first fest is any indication of what's to come, there is no doubt that from here on it is not only going to get a bigger and better event, but more fruitful as well.  

In closing; The Belizean Association in Killeen/Texas; "the City/State Without Limits," would like to recognize and thank a number of people and entities not already mentioned.  Thanks  goes

To BaBatunde & YeTunde of  Under One Roof African/American Books Store and Gift Shop in Killeen. The Association was contacted thru a listing of Afro American organizations and countries represented here in the Central Texas community, that they publish in the Newspaper: The Afrikan Posta.  

We thank the good office of the Belize Tourism Board in general, and Joycelyn McKoy; The Assistant to the Director, in particular, for answering our call for help, and sticking with us right up to the very successful end.

Thanks to Belizeans Glen and Ardeth Petillo Savery in Houston; for raising their hands to be of assistance if needed.

Thanks to Belizeans Jules and Maria Fuller, of Hospitality and Tourism Services, Katy, TX, BTB's Fulfillment House in the U.S. They were the people of the day , who went all the way, up to the very last minute of the last hour for us. They did not just make a difference, they made it all happen; for the Belizean Association in Killeen/Texas, and the

First Annual Caribbean Jam Fest in Central Texas.  Looking Forward to seeing lots more of us at next year's.