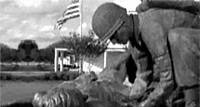 A True Medic;
 In Word and Deeds
Life could not have been fairer to any other individual than Leslie Gomez, to send him through what he did, and come out of it alive, well, and in one piece.
Les and my acquaintance goes way back to the mid to late 1960s, when his brother, David, Owner of the famous Big Daddy's Restaurant in Belize City, was the Branch manager of the Royal Bank of Canada in my hometown of Stann Creek, now Dangriga, in Belize. 
My mother, Jestine "Miss Jessie" Locario was his brother's family maid and laundry lady, and my sister, Ann Diego Sentino, the Nanny of  his children, whom they took along with them to Jamaica upon their transfer there.
I remember Les then as a happy go lucky, adventurous person.  Someone who, at 13, 14 years old, regularly hopped on the trucks that used to transport passengers and cargo in Belize in those days, to come to Dangriga for a visit.
Even then, Les got along with everyone. He was a cheerful and helpful person, who'd give the shirt off this back to those in need.
It therefore is of little wonder that he chose to serve in military medicine, and as a combat medic at that. On the morning of February 27, before the day dawned his personal qualities of loyalty to duty, respect, selflessness, honor, integrity, and personal courage would be put to the test:  
Les, tell us a little bit more about the units you were with when this incident took place:
I was part of the 1st Platoon of the 507th Company. The company was made up of three platoons.  The platoons consisted of three (UH-1V Huey Helicopter) choppers with a crew of 4 each.  My section, which was Response Aircraft-3, had CPT James Bobbit as the Pilot,
CW2 Agpoa as Co-Pilot, SP4 Albert Strong; Crew-chief, and I as the Medic
Who were the crew of the downed aircraft yours was responding to.  Were they from your unit also: 
Yeah; they were the Response Aircraft Number–1 of our platoon.  The crew had CPT Dan Graybeal as Pilot, and CW1 Kerry Hein as Co-Pilot.
Courtesy:(http://www.pbs.org/wgbh/pages/frontline/gulf/maps/7.html)
The Crew-chief & Medic for that team were attached to us from our sister unit in Fort Sam Houston, San Antonio, Texas, and I can't recall their names.
So, what actually happened to the Response Aircraft Number 1: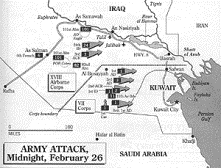 Courtesy: (http://www.pbs.org/wgbh/pages/frontline/gulf/maps/7.html)
Well; as you know, February 26th   probably will go down in history as the roughest and toughest day of the Gulf war.  That was the day the coalition actually came together as one cohesive force that's to be reckoned with, and the Iraqi army too realized this.  They saw, that with the 1st Cavalry Division, the largest armoured force in the world, was on the move, that there was but one place they were going, up North, to close the lid of the pot they were now in, and seal off their only escape route from the battlefield.   So, like any caged animal would, they were beginning to seriously fight back. Our own casualties began to mount as enemy contact increased, and calls for medivac started to come in with more frequency.  CPT Graybeal and his crew were responding to one of those calls when they got shot down by supposedly a enemy surface to air (SAM) missile.
About what time was this, Les:
It was about 3 in the morning, dark as
hell.  The only light there was came from      
all the tracers and explosions that  were
going off.  Which actually helped us locate them when we responded, because
the chopper caught fire on impact and we could see the flames from a distance.  That, and our GPS (Ground Positioning System) took us directly over where they were.
How far away did your aircraft land from the downed one:
We landed about 50 to 75 meters away.  It was also a Hot LZ (Choppers Landing Zone/Area), with small arms, artillery and aircraft fire all over and around us. We came down close enough so we could get to the crew quick, but still safely away from their aircraft.
What did your crew do once you all  landed:
SPC Strong, the crew chief and I dismounted, and we ran over to the burning chopper.
What did you two see when you reached it.  What was the condition of the chopper and its crew when you got to them:
When the aircraft came in contact with the ground the impact bent it in two and was lying slightly on its side. Its transmission, which normally sits above the rear compartment, had come crashing down and landed on the medic.  My crew chief and I tried to remove the transmission from on top of him, but couldn't.  So I felt for a pulse, and didn't find one. There was nothing we could do. The transmission had crushed him to death. 
We then went over to the Pilots' compartment.  The forward impact of the crash had gotten both CPT Graybeal and Chief Hein wedged between their seats and the aircraft instrument panel. The fire slowly crept closer, as it became more intense, and then began to engulf them.
They began to scream.  You could see the terror of fear and despair plainly in their eyes. 
My crew chief and I began to try and get them out, but they were both wedged in real badly. The rising flames and their safety harnesses, which were still engaged, made the effort difficult.
Albert and I kept trying everything we possible could, so as to release their harnesses, and get them out and away from the flames, as it continued to engulf them, and now, us as well. 
CPT Graybeal, must have realized our efforts would be of no use, and that the aircraft was about to explode, because he began to motion for us to forget it and get the hell away from there.
Les, you've given an account of all the crew members on that aircraft thus far, except for one, its Crew-chief. Where was he all this time.  What happened to him:
Well, when we first got to the chopper and began to search it, the Crew-chief was nowhere to be found.  So, once we realized there was nothing more that can be done for those still in the aircraft, without putting our own selves in danger, we began to concentrate on locating him.  My PVS-5 (Night Vision Goggles) saw him down on one knee about 25 meters away, on the far side of the aircrafts, and I ran over to him.   When he heard me coming, he must have thought I was one of the bad guys, because he pulled out his 9 mm sidearm, and aimed right in the direction I was coming from.
Then What Happened:
What happened??   Hell, I hollered, "Don't shoot!!! This Les.  Don't Shoot-Don't Shoot."
And what:
He recognized me.  The poor guy put the pistol down.  I called over my crew chief, we went over and picked him up, and carried him over to our aircraft.
Les, the citation mentioned something about a minefield.  Tell us about that:
Well Joe, when we took off on that rescue mission, and we landed near that aircraft, I knew we were in a Hot LZ, with possible enemy activity all round.  However, I stayed calm and focused.  My number one concern was to do what I can for those crewmembers. Everything else, including my own personal safety, came secondary to that. I personally knew a couple of those guys that were in trouble.  We were in the same unit, and in fact, CPT Graybeal and his family were personal friends of mine, and my own family.  So I wasn't thinking about who or what else was out there other than that flaming aircraft and its crew.
I didn't find out about the minefield until the next day. After resting up all morning, that afternoon, I got up and went out to get some chow.  Of course, the word had already gotten around about what happened, and as I walked over to the mess area, people were congratulating me. That's when one smart aleck called me a "Mr. Lucky Hero". I looked at him, and he said, "don't you know where you were this morning, man?"  I still stood there looking at him, wondering what the hell he was talking about.
"Man, you were running around in a goddamned minefield. In fact, that aircraft and the bodies, they just brought them in. Nobody would go anywhere near them until all the mines were cleared away from around the chopper."

Shaking my head, I said out laud, "Wow!!! I know I almost got shot, but I was in a minefield too.  Jesus Christ!!!"

Aftermath:
The news of Leslie's bravery preceded him to the U.S. of A., and it came almost live and direct, from the soul survivor of the rescue. 
A few days after this heroic act, the crew chief was medivaced to The Brook Army Medical Center, in Fort Sam Houston, located in San Antonio, Texas.  From his hospital bed, he gave an interview in which he thanked SGT Leslie Gomez dearly "for saving my life." 
Those words on the television news that evening brought mixed emotions to the people of the      Fort Hood/Killeen area, his family and  friends who heard them.  Those emotions were mainly a feeling of immense relief that he came through all right, with a generous sense of pride in what he'd done.
Leslie and his unit returned to Fort Hood in June of 1991, the last to leave and last to come back.  He got out of the military on disability in October of 95, and worked in the medical field for a while.  He gave it up a couple years or so ago, and is now in the automobile business.  Les still resides here in the Fort Hood area, where he is very active in the Belizean community and known as the "Maria Elliot" (Read Don Justo's books to find out who this person is) of Killeen, Texas, and doing good.
(About the Author:  Joseph Rodney Flores is a retired U.S. Army Belizean Garifuna, and a Persian Gulf combat war veteran, in which he fought with the (First Team) 1st Calvary Division as a Mechanized Infantry Platoon Dismount element leader and a Platoon Sergeant.  He resides in the Fort Hood area, and is actively involved with the Belizean community here as well.
Sergeant Flores takes this opportunity to mention, and personally dedicate his part in making this article possible to:   His buddies in A Team (Dismounts), 1st Squad, 1st Platoon, Alpha Company, 2nd Battalion of the 5th Regiment, 1st Brigade of the 1st Cavalry Division, especially SSG Harold "Ro" Rosario, Puerto Rican, who watched each others back, and got one another thru the conflict. SFC Pierre Lafaille, Hiatian, and SSG Rosebur, U.S.A, whose ear and ideas were always available when in need. SP4 Tony Melendrez, from Honduras and SGT Phillip "Greg" Mejia, Belize, who are known to have been also there with the First Team.  His wartime Penpals, the 2nd thru 4th Grade classes of the Linwood, California (Nazarene)Community Christian School, and their teachers; Mr. Nachiappan    and Mrs. Margaret "Mona" Peters-Polonio, a life-long and valued friend.  His family, friends and neighbours, Manny & Lydia Aquininogoc, who kept in touch, and his spirits up the entire time he was in the Gulf. Lastly; to his wife, Alethia, their children and Grand children, who means everything to him, then, now, and Forever.)
"Happy Memorial Day"