Killeenite 1st Miss Belize Dallas Beauty Pageant Winner
Ms. Primilee Janinee Usher
By: Joseph R. Flores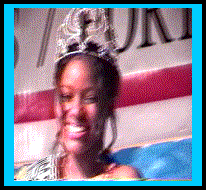 "Through all these sad things that happened this week...I would just like to go on the flip side of things and talk about the first Miss Belize DFW pageant. It was so wonderful.... I didn't even know we had that many Belizeans (in Texas)! The Garifuna Drummers, out of Killeen, TX, were absolutely great! The Punta dancers were great! The band, Time...featuring Breeze & Ninja, was great! The More Love Crew was wonderful...they gave a spiritual side to the show. The contestants were Wonderful...they all had beautiful gowns that shimmered in the bright lights.
"The winner of the pageant was Primilee Usher. She deserved it...she was smiling and just full of life. I still can't believe that so many people showed up to this event for it's first year. Again...I just want to congratulate the runner up, which were Ms. Vanessa Campos, representing Corozal, and the winner, Ms. Primilee Usher, representing Miss                                                           Orange Walk.  I also want to say good job to Natasha Pandy, Jesse August and Rebecca Campos! I'll be posting pictures up of the event."
And so already writes DJ Eastcoast Lauriano in Belizeans.com website, an eyewitness to the very first Miss Belize Dallas Beauty Pageant, and about its winner, whom I am about to present you. The function; a part of the September festivities put together by the Belizeans United in Dallas/Fort Worth organization, was held on the cool, clear Sunday afternoon of September 16th, at the establishment, Caribbean Grill, in Farmers Branch, one of the many small communities that surrounds the city of Dallas.
"Talented." "Smart." "Enthusiastic." "Cultured." These are just a few of the words that best describe Primilee Janinee "PJ" Usher, the 2001 Belize Dallas Queen. Primilee, now 16, was born into and raised in the military family of U. S. Army SSG John and Yvette Usher; both of Belize City, along with a brother and sister,
The oldest of the three children, she and her lovely family resides in Killeen, Texas, while her father is stationed at next-door Fort Hood. Primilee is an 11th Grade honor student at the Harker Heights "The Knights" High School, Harker Heights, Texas; which is within the Killeen Independent School District, and where she's involved in a number of academic programs and extracurricular programs.
The beauty and vibrancy Primilee graced on stage is not a coincidence, nor was the knowledge she articulated crammed. The Usher's constant moves to various military installations within the Continental U. S. and Overseas locations has developed in her a keen sense of family values, worldly interests and self assuredness. Primilee is not your typical Army brat. She is the kindest and most well-mannered teen one can ever meet. A young Belizean American, who loves her mother country, and all it's diverse aspects; including the various cultures, music and food, just to name a few.
During her reign as Miss Belize Dallas, PJ (which a combination of her first and middle initials) looks forward to using her main prize; two round trip tickets to Belize, to visit her parents' native country for the very first time. She'd also like to be at every Belizean function held anywhere that her presence is asked for. Her future plans includes going on to College after high school, and study towards becoming a forensic pathologist one day.
Primilee would like to thank all the wonderful people, Belizeans and non-Belizeans alike, and especially those in her present hometown of Killeen, who supported her in any and every way. We; in turn, are immensely proud of her, in what she've accomplished. As DJ Eastcoast so eloquently stated, without diminishing the personal efforts of the other contestants, "she earned her crown."
This Article first appeared in the September/October 2001 issue of the L.A.B.E.N. News.                                                              
Credits:
William R. Cayetano; Editor
Photograph by;  DJ Eastcoast Lauriano