RETURN POLICY

To place your order by phone call: 1-800-385-2910


---
Browse by Author/Artist:
0
A
B
C
D
E
F
G
H
I
J
K
L
M
N
O
P
R
S
T
U
V
W
X
Z
---
You are here:
Cell Phones & Accessories > Motorola > Motorola V620 GSM Quad Band Bluetooth World Phone (Unlocked) Model: v620

Motorola

Motorola V620 GSM Quad Band Bluetooth World Phone (Unlocked) Model: v620



Description:

The Motorola V620 reaches a level of stylish sophistication and intense technology that is designed to turn heads and evoke mobile envy. With an integrated digital VGA camera, video capture and playback, Bluetooth® wireless technology and situational lighting, all housed in a sleek metal housing, the model V620 delivers fast and convenient functionality with extreme elegance. And personalizing this mobile marvel is simple – just mix and match the interchangeable metal covers and choose from a variety of downloadable pictures, sounds, wallpaper and games to exude your own, unique personal style and make the Motorola V620 a mobile accessory designed just for you.

Just Shoot Me
With MPEG4 video capture and playback and an integrated VGA camera, the model V620 ensures that you never miss a moment. Point, click and send using Multi-media Messaging Service (MMS) and you'll have friends and colleagues "oohing" and "ahhing" over your every adventure. And, with an animated color display every image, animation and video clip will look crystal clear.

Climb the Mobile Ladder
To be sure that you are one step ahead of the game, utilize Bluetooth technology for a seamless, hassle-free connection to compatible wireless devices, PDAs or PCs. Out of the country? No problem – quad-band technology guarantees that you can talk and text around the world.

Attention-Getter
With an array of eye-catching interchangeable metal covers, endless screensavers and musical ringtones options the Motorola V620 is sure to capture attention and stimulate the senses. Completing the package you will find situational lighting located on the front of the handset that identifies the mobile activity currently taking place – from incoming calls to Bluetooth connections.

Player
Enjoy those few windows of downtime by challenging yourself with embedded and downloadable games available on your model V620. A large color display, great speaker, spacious number pad and 5 megabytes of end user memory make this mobile a gaming delight.

Features:

Sleek, compact design with a series of interchangeable metal covers
Large, active color display (176x220)
External CLI display with blue backlight
Integrated digital VGA camera with MMS for simple shoot and send capabilities
MPEG4 Video capture/playback
Quad-band functionality for use across the globe
22KHz polyphonic speaker with MP3 and MIDI ringtones
5 MB of memory
Situational lighting
Bluetooth technology for seamless connectivity
Embedded and downloadable games
PIM functionality with Picture Caller-ID
J2ME™ MIDP 2.0 and GPRS for easy downloading of ringtones, images and sounds
IM Wireless Village and POP3, SMTP, IMAP4 for advanced messaging


Weight: 3 lb

Cell Phone
List Price: $399.99
Our Price: $349.99
You save: $50.00 (12.5%)

Ships in within 2 weeks


Testimonials
I ordered nine of your books online from the comfort of my apartment around midnight, and I could swear that as I was turning off my computer, there was a knock at the door announcing that the books had arrived!

Michelle Forbes



New releases in Motorola...
See also in Motorola...
Motorola V872 GSM World Phone Model: v872 - Motorola
Our Price: $299.99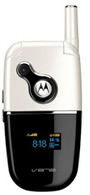 Motorola A668 Tri-Band GSM Camera Cell Phone Model: a668 - Motorola
Our Price: $399.99