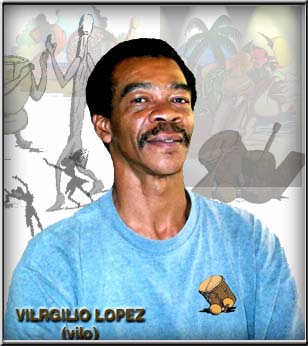 Garifuna Legandary painter and pioneer, Virgilio Lopez, is making a fast recovery from an attack made by three young men on Sunday July 13 in the Bronx, and is set to be discharged from Lincoln Hospital late this week.

The roberry attempt on the Garifuna celebrity happened during the wee hours of Sunday July 13 as he was on his way to finalize a design for an upcoming CD cover in Harlem NY.

"They were following me", he said on Wednsday July 16 when I visited him at Lincoln Hospital. "It was three of them. One in the front and two from the back", he continued.

"We began to struggle with eachother and next thing I know I am here in the Hospital with doctors around me alongside members of the NYPD."

His eyes were swollen and shut when he arrived, according to what nurses and family members. His right leg, he says, still hurts. The head injury he suffered left him a scar on the right side and could still feel minor headaches.

"If they would have had something on them, I believe you would've been writing my biography", he said as he overlooked the street below from the 6 floor looking at pedestrians and the Garifuna Bus (BX19) as it passed by.

He did not wanted to publicly say when he was coming out, but he said that "by the weekend" he should be out of the hospital to rest at home with his family.

The news sorrounding Vilo's attack had hit the community around the globe responding via emails and postings on message boards. Many wished a healthy and a quick recovery.

Virgilio Lopez is the artist who designed the logo for the 200th Bicentennial in Honduras in 1997, he also contributed to websites such as the former Garifuna World, Garinet.com and the upcoming Lidani.net. Most of his work can be seen on Jimmy Suazo's CD covers.