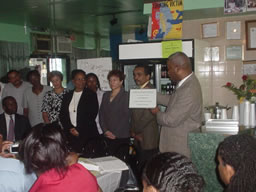 Bronx, NY 9/28/2003

Members of the Garifuna community in New York and the staff of the
office of the Borough President, Adolfo Carrion, Jr. met this morning
at a Continental Breakfast at the Garifuna Restaurant in Westchester
Avenue in the Bronx.

"Today, we are making history", began Garifuna Coalition's President,
Mr. Regil Solis who accompanied by Honduran Cousulate, Hon. Maria
Antonieta Maximo, Jose Francisco Avila, Deputy Borough President and
Hon. Earl Brown.

"We are here to show the appreciation for the work and support Mr.
Carrion has given us as well as to say that he can count on us."

The meeting was filled with children who enjoyed the breakfast and
listened closely to the message delivered by the Borough's highest
elected official.

INSTANT REPORT BY JERRY CASTRO FOR LIDANI NEWSWIRE PHOTOS BY LIDANI
GARIFUNA TIMES MAGAZINE.