By:  Joseph R. Flores
The Persian Gulf War began in August 1990, when Iraqi forces invaded and occupied Kuwait. The conflict culminated inair and ground campaigns in January and February 1991. The Iraqi leader's Saddam Hussein mounting frustrations and 'paranoia' had found him a reason in accusing his neighbour of various crimes, and sent seven divisions with 2,000 tanks, into Kuwait in the early morning hours of 2 August. This invasion force quickly overwhelmed their opposing army, allowing Hussein to declare, in less than a week, that Kuwait was his nation's nineteenth province.
The United Nations quickly responded with a series of resolutions that condemned the invasion and called for an immediate withdrawal of Iraqi troops from Kuwait.
Regarding Iraq's actions as a threat to national interests the United States quickly deployed navy ships, warplanes and ground forces to the Persian Gulf. Operation DESERT SHIELD, the US military deployment to first defend Saudi Arabia grew rapidly to become a 30 nation coalition military force, and on 17 January 1991, when it seemed clear that Saddam would not withdraw, Desert Shield became Desert Storm, an all out attack to remove  the Iraqi forces from Kuwait.
By suspension of offensive combat, and a permanent cease-fire on Feb 27, the U.S. had deployed some 500,000 men and women from all branches of its uniformed service to the Middle East as part of  the 700,000-man coalition force. Hundreds of them were Belizeans, or with Belizean origins. Making up a large part of these troops were soldiers from III Corps and Fort Hood. One of them, SGT Leslie Victor Gomez, would return with a Medal for Valor.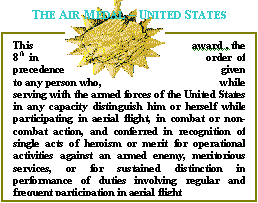 Citation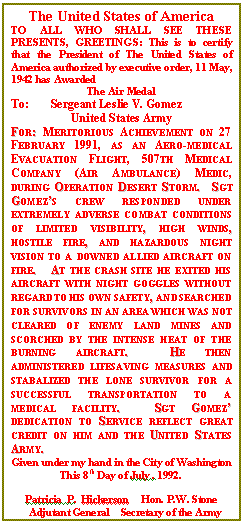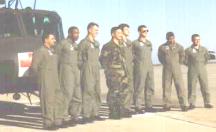 Leslie (on your far left above) was born March 5, 1954, in Belize City, to parents Maurice and Marie Lord Gomez.  He grew up on Euphrates Ave. with his brothers and sisters, David, Norman, Roger, Rosalee, Margaret  and Jenny.
Leslie attended the Anglican schools of the city and graduated from Wesley College in 1973.  In 1975, he migrated to the U.S.A. and joined the Service in March 1977, choosing the medical field as his career specialty. For the next 18 years until his medical discharge in 1995, Les was to be an Aero-medical Evacuation medic, stationed throughout the world, including Korea and Alaska. In that interim he married and reared 6 children, Eddie, John, Brian, Timmy, Magan and (Adopted Granddaughter) Amanda.
When the Gulf War commenced Leslie already was here for three years in Ft Hood with the 507th Company (Air Ambulance), 36th Med-Evac Bn, 1st Med Group, 13th COSCOM, where he essentially provided medical evacuation support to all the Corps units, to Ft Sam Houston in San Antonio, and Emergency Airlift Assistance to the States' Safety and Traffic (MAST) program.
With war now a likely possibility, Les's unit was given deployment orders in January 1991.  They flew from Ft Hood directly to Saudi Arabia and into the combat zone, where they were attached to the 1st Inf. Division:  The Spearhead
of the allied ground invasion into Iraq.