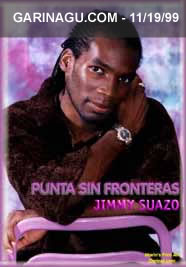 Lachamuru Jerry Castro

At Lugudi Barana in Livingston, there was a moment of silence to pay respects to the man known in Labuga as "El Rey del Rebane".

In England, Leticia Gutierrez Lacayo says that she will play all of Jimmy Suazo's record until midnight.

"Aba me natu biama guifiti luagu namule - And I will have two shots of guifiti for him."

In the Garifuna city of Tela, preparations were underway to honor the man the city gave birth to while in Boston, people gathered around to talk about the times and moments they spent with the Garifuna music legend.

"It seems as if it was yesterday we party with him", said Emilia Cayetano from Livingston in Guatemala as she sobbed over the telephone remembering the tour Garifunas from Livingston did last year to go see the electrifying musician perform in Honduras.

"Somehow, someway, I still can't let go."

The impact of the tribute being given to Jimmy Suazo today also controlled Garifuna message boards and guestbooks on the internet.

"As I am typing", wrote a web visitor on garinet.com, "tears are beginning to flow…The wound is till fresh."

Jimmy Suazo died last year in a freak accident as he toured with his band, NYCHADA Banda Show, in Honduras.

As popular as he was, Jimmy was bound to make the musical crossover to take the hyped, Punta Rock, to the next level.

"Just like we have Martin Luther King Day", said the Punta Rock prodigy and who is perceived as the man to take over by many of his peers and colleagues, Nuru, "we should have a Jimmy Suazo Day to recognize the struggle he did and celebrate his success and achievements", he continued as he paid his tribute by staying in the studio listening to tracks.

But in the Bronx, home to the largest Garifuna community in the United States, and the community who is used to the "Jimito Show", a prayer service was scheduled to take place at Jimmy's House in the heart of Tremont vincinity. A future mass has been scheduled for May 7th, but Lidani was not confirmed the time or place where it would take place. However, once the information becomes available, it will be wired to all media.

The pub in the Bronx will receive the elites of community leaders and musicians.

"I received the call", said the Godfather of Punta Rock, Gadu Nunez, who was in the tour with Jimmy last year and was two cars behind the car where Jimmy had his accident who was accompanied by his two sibling, Carol Herera and his brother…Torrencial.

"We have honored Elvis, Ray Charles,Celia Cruz, Biggie and Tupac", begins Rene "Latigo" Sambula. "For the impact Jimmy Suazo had not only on our youth, but spreading the history and struggle of our people in his music, he certainly deserves that and more."

"I wish everyone knew how special and caring Jimmy was", said Celeste Caballero.
"Whether he was on stage, at the park or soccer field, you couldn't get enough of his energy", she continued as she played one of his songs on the background.

"It is days like this I look forward to hear about the party and the electricity in the club, instead, like he says in one of his songs, we'll have to go on listening to his voice."

Remembering Jimmy Suazo
4/18/2005
"Life, Liberty & the Pursuit of Garifunaness"
Lidani Garifuna Times Magazine * Garifuna University * . 1998 - 2004, All Rights Reserved.