RETURN POLICY

To place your order by phone call: 1-800-385-2910


---
Browse by Author/Artist:
0
A
B
C
D
E
F
G
H
I
J
K
L
M
N
O
P
R
S
T
U
V
W
X
Z
---
You are here:
Art > Original Paintings > Dugu – The Healing Ceremony

Isiah Nicholas

Dugu – The Healing Ceremony



"Dugu" in a nutshell is indeed the healing ceremony. I would like to call the Garifuna feast.
Dudu is a time, when families and friends, come from far and near together in the temple as one, to communicate with their ancestors, with the help of a spirit medium. Drums as being played. Food that is being prepared by the family is being shared between both the living and the dead.
The sick is healed and the ancestors are pleased.

- This painting is done with acrylic on canvas
- Size: 48 x 30
Original Painting
List Price: $1200
Our Price: $700
You save: $500.00 (41.7%)

Ships within 5 business days


About Isiah Nicholas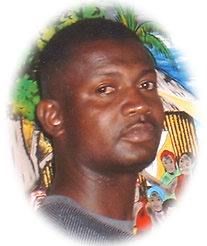 Art + Culture + Ideas = Isiah Nicholas. Isiah is the son of Benjamin Nicholas. Benjamin, is one of Belize's leading artist. He is the chronicler of the history and culture of the Garifuna Indians.
The Garinagu (plural for Garifuna) are the descendants of male African slaves and Carib Indians women, who were defeated by the British in March of 1797. They were then deported to the coast of Nicaragua, Honduras, Guatemala and Belize in Central America.
Isiah, was born, on the 30th day of July, in the beautiful country of Belize. He has been painting and drawing from since primary school days.
At the age of eight, Isiah did his first painting on canvas in oil. This painting was sold to an Art collector from Minnesota.
Both, Isiah, and his dad paintings, depict the history and the daily life and culture of the Garifuna people, from fishing and farming to healing ceremonies and mourning rites. He Nicholas painting reputation has steadily grown in Belize and abroad, and has received many awards.
Today, both Isiah and his dad paintings are all over the world, in homes, banks, offices, museums, etc.
High ranking officials, who visit Belize, such as the Queen of England, the Pope and Presidents are given a Nicholas painting by either the Prime Minister of Belize of the Ministers.


Testimonials
When I discovered garinet.com, I was delighted to find a community-driven site devoted to all things Garifuna. Your company seems to offer the most comprehensive inventory of Garifuna books, music, and video available on the internet.

Carey Little
San Jose, CA


New releases in Original Paintings...
Most popular by vote in Original Paintings...
See also in Original Paintings...
Straining Cassava 12 by 16 - Isiah Nicholas
Our Price: $79.98

Hudut Time - Isiah Nicholas
Our Price: $150