By Ifasina Efunyemi
Tuesday, January 17th, 2006
Andy Palacio, 45 years old
Interview with Ifasina Efunyemi, Tuesday, January 17th, 2006
National Institute of Culture and History, Belmopan City, Belize C.A.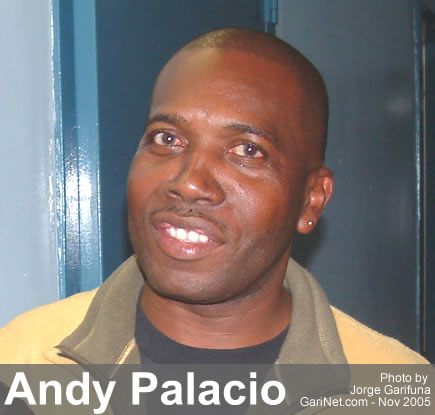 Ifasina: Who or what inspired you to become an artist?
Andy: There was a series of circumstances the last of which was the decision to put Belize on the map through culture. In one instance around 1987, I was in the UK for a Caribbean Expo and the only feature on Belize was a copy of the novel Beka Lamb by Zee Edgell. People didn't even know about Belize. That painful experience - which was a bit embarrassing - inspired me to get into entertainment and make a name for myself and Belize. I realized that musical artists got a lot of recognition compared to political leaders as in the case of Bob Marley.
Ifasina: At what age were you aware of your talent?
Andy: In my early teens I began to recognize my talent. I recognized I had some musical skills such as playing the guitar and singing. It was just from hanging out with my peers that I started to recognize my talent.
Ifasina: How did you fall in love with music?
Andy: Music has always been a part of my life, at home, in school. My Dad was a musician so I was exposed to not only listening to music but also playing it. It was natural, just there; I was fortunate. There was no need for some life altering experience for me to fall in love with music.
Ifasina: How long have you been performing?
Andy: I began performing as an amateur from age 15 then I decided to take it up professionally in 1987 at age 26. As a teenager, I played in church and was part of a high school band that played at variety shows and school fairs. I never felt the need for training; I relied on God's gift and threw myself at the world. Having developed the interest, I observed artists and groups I admired. We study people we like.
Ifasina: What is your favorite song and why?
Andy: 'Baba Nuguchi' is my favorite because it is a deeply personal song. It was one instance that I said exactly what I wanted to say and I did it not only for me but for others who feel the way I do about my father. Mothers get celebrated a lot but not fathers. I got positive feedback and it didn't fit the clichéd punta rock I was known for. A lot of people preferred the kind of vibe in 'Baba Nuguchi' and I found that complimentary.
Ifasina: Who is(are) your favorite artist(s) and did you imitate them early on?
Andy: They include Otis Redding, Gregory Isaacs, Kool and the Gang, Lionel Ritchie, a wide range. As I matured, I came across Alpha Blondie and Kassav'; they were making contemporary music in their own language. This inspired and propelled me to establish my identity as a Garifuna artist. In terms of style or stage presence, I went through the pop star phase wearing geri curls and gloves, and then I changed my appearance. In fact, I've done this at least a dozen times. All that was me trying to find an image I'm most comfortable with and I've found it. I like being plain, ordinary and non-glamorous. I think my fans argue among themselves about it and they do give me feedback but for now, this is it.
Ifasina: Do you write your own lyrics/play an(any other) instrument?
Andy: There are only a few songs in my recordings that I didn't compose such as 'Punta Medley' and 'Nabi.' I create all my works. In the studio, I have tended not to play any instruments but on stage, I have done a little guitar. I play the harmonica also but I've never included it in any of my recordings.
Ifasina: Tell us more about your lyrics? Are they for instance based on your experiences?
Andy: My lyrics come from a variety of sources – observation of life, personal experiences. There is no formula. Sometimes I have a melody with no lyrics and sometimes I have lyrics with no melody and I would just marry the two. There are times it all comes all at once; words and melody come together very easily.
Ifasina: What kind of setting do you prefer when composing a song?
Andy: I spend a lot of time in quiet places. Most of the time my home is quiet and this is the perfect environment to be creative. There have been times when I'm in the recording studio experimenting with something and create right there, but this is not a luxury I often enjoy. Studio time costs a lot.
Ifasina: Do you always feel comfortable with your music – backing musicians, stage sets?
Andy: No. On stage I have yet to do the performance I am completely happy with and proud of. There's always some flaw from poor mix, musicians errors to me just not feeling the performance. In the studio, most of my recordings I wish I had the chance to re-record the way I would like them to sound. I often surrendered creative control to producers. I relied on their judgment and sacrificed my true feelings. Should I find myself in a different environment that is one thing I would love to do, re-record. For now, there are too many distractions.