Part 2 of 3
By Ifasina Efunyemi
Tuesday, January 17th, 2006
Andy Palacio, 45 years old
Interview with Ifasina Efunyemi, Tuesday, January 17th, 2006
National Institute of Culture and History, Belmopan City, Belize C.A.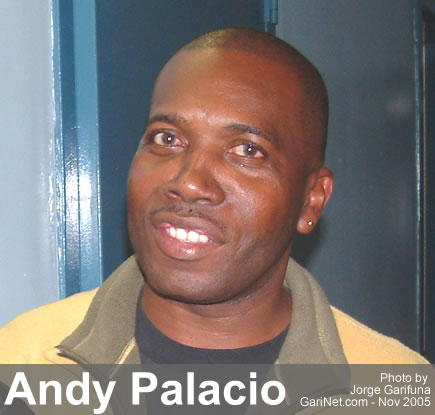 Ifasina: Do you have any new projects in the works?
Andy: Yes I do. I recorded some material for Stonetree Records about 3 years ago and they are still negotiating to get the best licensing deal for it. It is titled 'Andy Palacio and the All Star Band'. This is the only project for now. I haven't been in the studio for that long and I don't mind. I do like the studio environment, it is my favorite place, but this is one of those changes I've learnt to live with. Given a choice between the office and the studio, I'd pick the studio if the salary were the same.
Ifasina: Will you or do you go on tour to spread your music?
Andy: I've done this before but since I signed with Stonetree, I don't seek out performance opportunities. When Stonetree goes to the World Music Expo, that's when we find out if any requests for performances are made. The only way I'd go on tour is if the licensee decides to put together a tour to promote the CD.
Ifasina: What in your opinion needs to happen for your music to be heard worldwide?
Andy: My music is already being heard worldwide. My royalty statements indicate where my music is being played – Eastern Europe, Middle East, US, New Zealand, Japan, it's everywhere. I'm always pleased to see new additions. Once every quarter, I get these statements that tell me where I get air play, what media and earnings for that period.
Ifasina: How has the public reacted to your music and performances?
Andy: I would say more than acceptance, great appreciation generally regardless of the style. In Japan last year August, with basic Garifuna drums, maracas, turtle shells and an acoustic guitar, I got the most enthusiastic audiences I've ever played for.
Ifasina: What is or has been your most interesting experience as an artist?
Andy: That is being the headline artist at the Caribbean Festival in Belgium. The fact that I was playing on the same stage with artists I really admired was quite fascinating. It was a very flattering situation, ahead of a compliment for Garifuna music to be the headline performance before 30,000 people.
Ifasina: What do you feel has been your greatest contribution so far?
Andy: I think perseverance to prove that we can do it and be right up there with the rest of the world. I'd like to make future artists believe that they have a chance perhaps greater than ours.
I feel I've been able to promote Belize especially with my album 'Keimoun' which has been listed among the 100 essential CD's of Latin America and the Caribbean by Rough Guide. Through this I have also contributed.
Ifasina: Have you ever or do you now experience stage panic? How do you handle it?
Andy: No, audiences do not scare me. I've never experienced stage panic. I cannot recall. It seems the more people I have in my audience the more comfortable I become.
Ifasina: Typically what is your reaction to your fans and public in general?
Andy: I return the love, it's the least I can do. Fans express some real concern that I never dismiss. Regardless of the means they use to express, I find an appropriate way of responding.
Ifasina: Did you ever dream of this type of fan reaction?
Andy: No, I never anticipated it. From the time I entered the entertainment scene to now, the media has changed and the people have changed with the media. Being on television and radio and doing so frequently elevates you to celebrity status and with that comes all the attention for better or worse. With exposure to the lives of the rich and famous, those who don't know better end up with the misconception that that's the way it ought to be. Their perception of your purpose gets skewed due to media stereotypes. Despite that though, I still find my fans responding positively to me. Many remember my beginning which left a lasting image in their minds that they keep reminding me of.
Ifasina: What kind of impact has music made on your life?
Andy: It has made me a much wiser person I guess. Traveling and experiencing different cultures made me accomplish a lot that I wouldn't have outside of music. Plus, the respect and appreciation from people is something you could never buy.
Ifasina: Has it transformed your way of viewing the world?
Andy: Yes, I thought the world was big but this has shown me just how small our world is. As I travel, I see so many similarities through music. It's like a global movement. Music brings us all into focus and shows us how connected we are. Without music, we would be disconnected or at least the perception of being disconnected would be stronger.