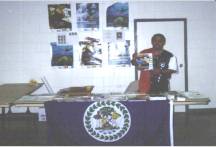 Leslie GOMEZ at the 1st Caribbean Jam Fest
Belize Booth.  Another  participant/organizer


was Seine Bight native, SSG Brian Martinez. More on Les in this issue.
Belize Tourism Supports
Organizations Abroad
By Joseph R. Flores
The Belizean Association in Killeen/Texas made its first showing for the year 2001 at the First-ever Caribbean Jam Fest in the local area, with a massive display of their Beautiful and beloved country.
The fest, held on the brisk, bright afternoon of Saturday, February 17, at the Copperas Cove Civic Center, was very well attended. The spacious center was packed to capacity, with hundreds of attendees, and participants.
A more idyllic location couldn't have been chosen to hold an event of this nature.  Nestled in the historic hills of Central Texas, Cove, as it is fondly called, is a friendly little city of some 30,311 inhabitants. Mostly a residential area, it is conveniently situated along the busy U.S. 190 highway, a few miles south of Killeen, and just minutes away from the main gate of Fort Hood Army base, the Largest Military installation in the world.
The Community is home to a diverse population of people from all around the world, and is famous for its excellent schools, festivals and high standards of life.  Because of all these qualities, a large number of the people from the Caribbean in this area, have chosen Cove to be their home away from home.
The Jam fest, which lasted from 1p.m. to 6p.m., was a fun filled event, with the sights, sounds and aromas of the Caribbean everywhere: on stage, in the music, from the booths, and from all those who were there to represent, participate, and support. The result truly lived up the theme of this years' event:                         
"Come to the Islands"
The event was sponsored by the Caribbean Tea House & Gift Shop, the Afro Caribbean Cultural Committee, the City of Copperas Cove Parks and Recreation Department, the Cove Super Wal-Mart Store, the Killeen Daily Herald and by the booths represented.